Most of us are living through a pandemic for the first and last time in our lives.
India, as a country, has tackled a lot of contagious diseases. But they take their own sweet time.
The same goes for COVID-19, the case of corona virus is increasing rapidly on a daily basis. As much as we need to kill the virus and stop the spread, we know it is not going away any time soon.
During this time, the Safety of well being is on a higher need.
COVID has affected the economy as a whole and the livelihood of every single person. While the solution to stop the spread is staying home, it's something we can't do. And luckily we won't have to.
Thanks to our heroes especially healthcare workers, police force, and others. They are risking their own lives to save us from the corona virus every single day and night.
Like the Prime Minister said, "We can't let our lives revolve around Corona." We are now equipped with the right ammunition to brave the virus out in the open.
These items are not only for doctors and police force dealing with COVID. It's for everyone who needs to step out of their house to earn their bread. Even for people working from home, these items will come in handy while dealing with delivery partners.
In such difficult times, we need as much help as we can get. We need to remember we are fighting the disease and not people.
We can fight this battle only when everyone takes precautions. So don't shy away from taking care of your health and spending some extra bucks.
We are here to help you know what basics items you should have to protect yourself from this virus.
Here is the list of items that can keep you and your family safe at every front:
1. Forehead Thermometer:
As you might know, high internal body heat is one of the first symptoms of COVID. Estimation of body heat from a safe distance is a good way to detect if you have the virus. Such checks are vital at public places, workplaces, airports, cafes, etc.

The forehead thermometer comes with an infrared sensor to check the body heat. It works well from a distance and detects the human body temperature from the surface. This device has become vital for countries worldwide to contain the spread.
4 Best Selling Forehead Thermometer For Adults & Kids
Check out these 4 best forehead thermometer options for baby and adults available online on Amazon India and Flipkart.
1) Smile Mom Infrared Forehead
Check this Smile Mom Digital Infrared Forehead Thermometer Gun for Baby, Kids, and Adults. Check Price on Amazon
---
2) Vandelay PAPA Infrared Thermometer
It comes with 3 years sensor warranty non contact IR forehead thermometer with three functions. Check Price on Amazon India
---
3) Dikang Infrared Forehead Thermometer
Dikang HGB01 Infrared Forehead Thermometer Digital Non-Contact, FDA Approved Thermometer. Check Price at Flipkart
---
4) VMS Careline Forehead Infrared Thermometer
VMS Careline Forehead Infrared Thermometer Gun with IR Sensor, Color Changing Display & Memory Button Thermometer. Check Price at Flipkart
---
2. Oxygen Meter Oximeter:
This device has become popular after the thermometer. It gauges the grouping of oxygen in the blood. As shortness of oxygen in the human body is a symptom you might be corona positive.
This helps in recognizing the presence of the virus in the body. The percentage of oxygen grouping under 90% is hazardous.
Windedness being one of the key symptoms of the virus, this device is very helpful. Individuals are using it to determine the degree of oxygen in their blood.
2 Best Pulse Oximeters for Home Use in India
Check out these 2 best selling pulse oximeters for home use in India to check the oxygen anytime as per your convenience.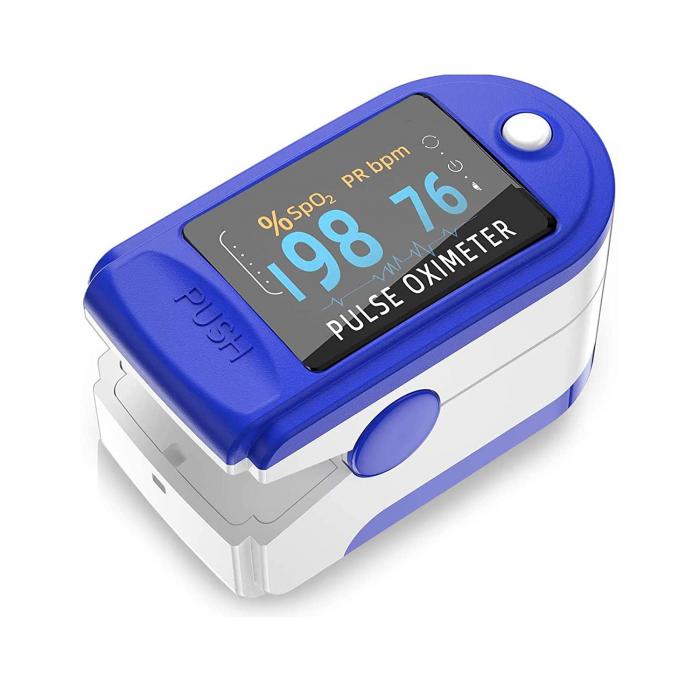 1) Wembley Fingertip Pulse Oximeter
Check Wembley Fingertip Pulse Oximeter For Heart Rate Monitors, Pulse Oxygen Meter Finger Oxymeter Measures Oxygen Saturation, Pulse Rate and Perfusion.
---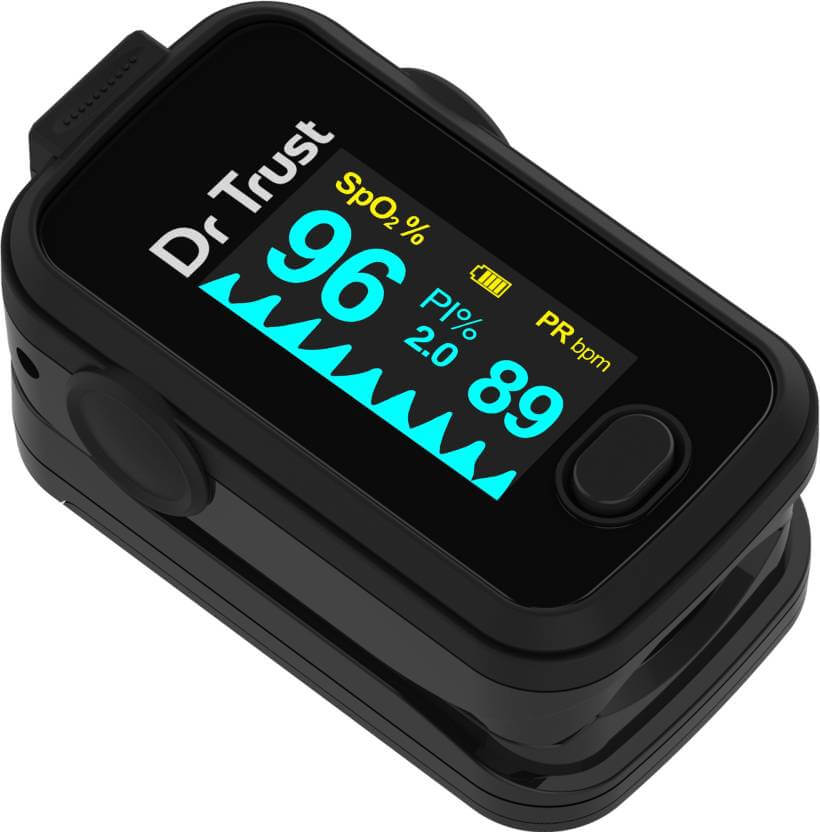 2) Dr. Trust Pulse Oximeter
Dr. Trust (USA) Signature Series FingerTip with AUDIO VISUAL ALARM water resistant Pulse Oximeter.
---
3. Face Masks For COVID 19 in India:
COVID can spread through germs during a cough or sneeze. This makes it imperative to wear face masks at all times.
A mask ensures no germs enter your mouth. Though it's advisable to keep washing your hands for 20 seconds as well.
Face masks have become an essential accessory. Also in the event that you are in an open spot where you will experience others, you should wear a mask.
It is ideal to wear a face-mask regardless of whether you think you are healthy.
Check out the best selling face mask for COVID in India at Flipkart and Amazon India with a click.
---
4. PPE Kit:
This ensures the virus doesn't enter your body in any way possible.
PPE Kit acts as a barrier to the virus while treating patients who are corona positive.
People working in hospitals or in containment zones can wear it to stay safe.
Check Best Selling PPE Kits on Amazon India and Flipkart on a Click!
The complete PPE Kit includes 3 – ply face mask, bodysuit gown, hand gloves, face sheet, head cover, shoe cover.
PPE Kit helps you to protect from infection or virus that can be transmitted in your body.
Do's and Don'ts For PPE Kits in India at Swagat Hai for your safety.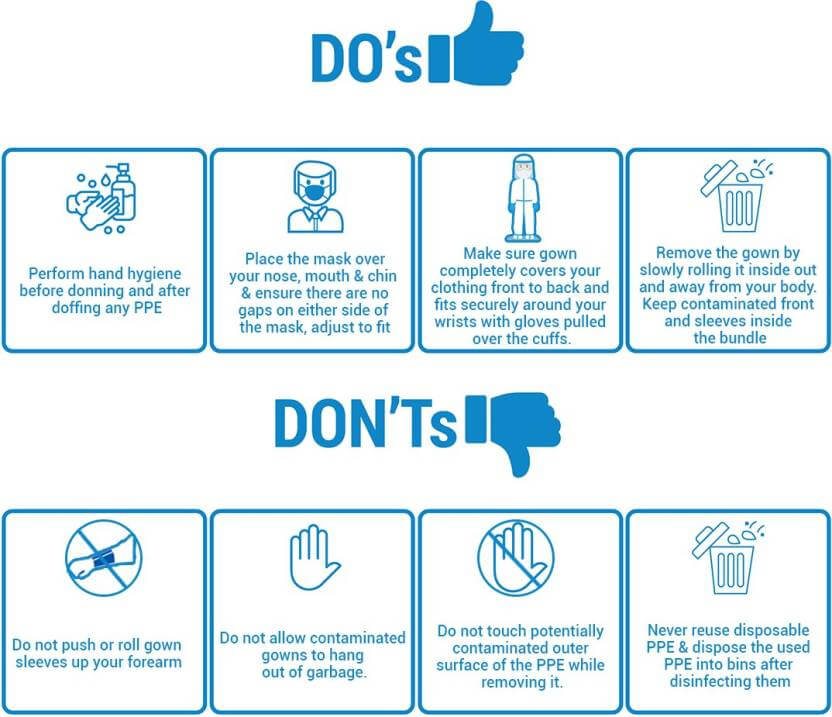 ---
5. Safety Hand Gloves:
Since COVID spreads through germs, gloves are an efficient way to keep the hands clean. Gloves must be used wherever necessary.
Washing hands is still the best alternative. Wearing gloves while treating a patient or cleaning is always recommended.
Click to view best selling safety hand gloves on Amazon India and Flipkart.
---
6. Hand Sanitizer:
This is a very useful and necessary item for every individual in the world. COVID germs can survive on surfaces.
And there are chances you might touch surfaces where COVID germs will be present.
We as a human have a habit of touching mouth, nose, or eyes and COVID germs can enter in our body.
Washing hands might not be possible every 5 minutes especially when you are out of your house.
Hence using a sanitizer is the best remedy.
Check Best Selling Hand Sanitizers on Amazon India with a click!
---
7. Security goggles and Face Shield:
A single bead of germ can enter through your eyes or the surface of the skin. Using goggles and face shield ensures and an extra layer of protection.
Face Shield for Safety
Check Best Selling Face Shield on Flipkart and Amazon India by simply following the link.
So it is safe to wear security goggles and the face shield for your wellbeing concern.
---
8. Immunity Booster:
COVID-19 might be a deadly virus but it is a virus at the end of the day. Human bodies produce antibodies to keep themselves safe from the attack of the virus.
A healthy amount of food, water, vitamins, and cleanliness can boost our immunity. A sound immunity system is able to sustain the attack of the virus. Individuals with a solid immune system can battle with coronavirus.
Check Immunity Booster Products for Kids and Adults on Amazon India.
Eat a nutritious diet and exercise regularly. Keep your immunity well.
---
Conclusion – Stay Safe Stay Physically Fit
We can't hide in our homes. We can't go out without precautions as well. COVID-19 is dangerous and we are lucky to have products to ensure our well-being. The world needs to operate to survive. A complete lockdown will bring death from hunger.
A lot of businesses are opening up after a very long time. It's our duty to make sure we are well protected from this virus. And these items are necessary to keep ourselves from becoming carriers of the virus.
Let's take control and contain the spread. It's time we face this conflict together and take our wellbeing in our grasp.