Are you looking for the best books by Chetan Bhagat available online?
If yes, then in this post, you will find the best novels authored by Chetan Bhagat, including The Girl In Room 105 and Revolution 2020.
Chetan Bhagat writes his novels in easy English, which makes it more convenient to understand the book. Also, You can find a good plot for all his books, which keeps you engage throughout the book.
About The Author Chetan Bhagat
Chetan Bhagat is an Indian author who is one of the most popular contemporary fiction writers in India. He studied mechanical engineering at the IIT Delhi (Indian Institute of Technology Delhi) and received his MBA degree from IIM Ahmedabad.
After working as an investment banker for over ten years, he joined the business of writing with his first novel, 'Five Point Someone.' The tremendous success of his debut novel created an exclusive niche for him.
According to the New York Times, he is the most prominent selling English language author in Indian history. He has awarded for Best Screenplay in the year 2014 by Filmfare.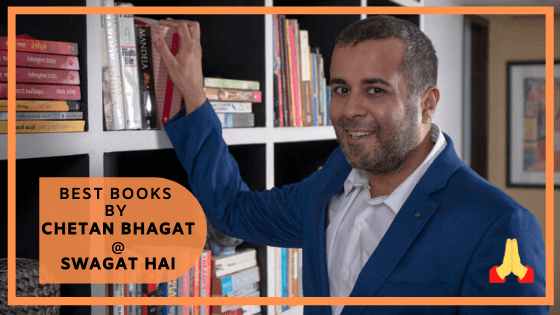 Till now Chetan Bhagat has written total 11 books and the names are as follows: India Positive, The Girl In Room 105, One Indian Girl, Making India Awesome, Half Girlfriend, What Young India Wants, Revolution 2020, 2 States, The 3 Mistakes of my Life, One Night @ the Call Center and Five Point Someone.
Here is a compilation of the best books by Chetan Bhagat. Swagat Hai list includes only bestseller Chetan Bhagat novels from Indian eCommerce giants Amazon India and Flipkart.
List Of Best Chetan Bhagat Books in 2020
Check out the top 8 Best Selling Chetan Bhagat Novels based on love stories of various characters at Swagat Hai.
One Arranged Murder (Best Seller)
5 Point Someone What Not To Do At IIT
The Three Mistakes Of My Life
2 States: The Story of My Marriage
Revolution Twenty 20 Love.Corruption.Ambition
The Girl In Room 105 An Unlove Story
One Night @ The Call Center
Half Girlfriend
This collection includes eight best books by Chetan Bhagat. Keep reading to learn more about each book in detail.
You can bag your favorite Chetan Bhagat book from Amazon India or Flipkart by following easy steps.
1) One Arranged Murder (Best Selling 2020)
One Arranged Murder is the latest book by Chetan Bhagat in the year 2020. The book is available in kindle, paperback, and audiobook.

Click to view on Amazon
It is a story about love, friendship, family, and crime. The story revolves around three characters Keshav (the main character), Saurabh who is a friend, flatmate, colleague, and business partner of Keshav and Prerna who is a fiancee of Saurabh.
One Arranged Murder is an unputdownable thriller novel from India's highest-selling author. Here are the reasons why you should read this book?
The book's writing is simple and easy to understand and you can read it in 1 or 2 sittings.
The reference of the previous book 'Girl in Room 105' brings back memories of lovely Zara Lone.
Full of suspense. You can't figure out who the murderer is till the time writer reveals.
Check & Buy One Arranged Murder Book on Amazon
2) 5 Point Someone Novel – Chetan Bhagat
Five Point Someone: What not to do at IIT is the very first novel written by novelist Chetan Bhagat. Two films were made by taking a reference of this book, 3 Idiots in Hindi language and Nanban in the Tamil language.
It is the story of an IITian and the exploration of his college life. You can experience the engineer's story, the book includes all human emotions like love, friendship, and living one's dreams. Click the image and see the offers on the book Five Point Someone.

Click to view on Amazon
3) The 3 Mistakes Of My Life Book by Chetan Bhagat
The three mistakes of my life novel follow the story of 3 friends and are based in the city of Ahmedabad in western India.
It is a story of an entrepreneur who is young and is faced with constant guilt, in turn prompting him to correct the mistakes of life. Kai Po Che is a Bollywood movie based on this novel. Click on the below image to check the offers on the book at Amazon India.

Click to view on Amazon
4) Chetan Bhagat 2 States: The Story of My Marriage
2 States novel is based on the story about an Indian couple coming from 2 different states, who face hardships in convincing their parents for their marriage.
It is an extraordinary love story between 2 youngsters from 2 different family backgrounds and the extent to which they go to live together. Buy this book and read more. Click on the image below.

Click to view on Amazon
5) Revolution Twenty20 Novel – Chetan Bhagat
Revolution twenty 20 book is more than an ordinary love story. The author tried to explain the ambitions and thought process of a young India.
This novel revolves around a youngster who is often used to facing defeat and how his life entirely changes when he achieves success for the very first time. Read to learn a love triangle, corruption and a journey of self-discovery with this book.

Click to view on Amazon
6) The Girl in Room 105 Book – #ChetanBhagat
The Girl in Room 105 is not based on a love story. It is an unlove story. The story is about a class tutor who goes to see his ex-girlfriend on her birthday and finds her dead.
Experience his journey where he stands by his ex-girlfriend after her death to find justice. The novel also addresses the stereotypes and political issues people face in India. Click below to see the offers on Amazon India.

Click to view on Amazon
7) One Night at the Call Center Novel
One Night at the Call Center is a story of the events happened on a critical night with employees of a call center in Gurgaon. Read this book to how these events changed the life of call center employees.

Click to view on Amazon
8) Half Girlfriend Book – Chetan Bhagat
Half Girlfriend is a love story of Madhav and Riya. Check this latest book by Chetan Bhagat, which revolves around a Bihari boy and his romantic quest for the girl he loves.

Click to view on Amazon
Final words: If you're someone who like to read about romance, love, drama genre novels then Chetan Bhagat is your author. Go and explore his books from the list shared above.
Do let us know your favorite Chetan Bhagat novel in the comment section below and why? Till then keep rocking…