Well, sun again comes in the northern hemisphere and it's a peak summer time in India.
Cold air, cold water, and cold beverages are the only things, we want in summers. Among these, cold air is quintessential.
It is a well-known fact that air conditioners (ACs) are mostly favoured to beat the scorching heat of the sun.
Also, not everyone can afford it and not everyone wants to use it due to environmental concerns.
Contrary to this, table fans are the best options as they are affordable, portable, mobile, and saves more energy as compared to Air Conditions.
Although We can say the fans or table fans are basic needs to maintain healthy body temperature in summers.
Okay! Now, you have decided to buy a table fan for yourself, but which table fan?
This is where your clock stuck. Don't worry! Swagat Hai team curated a list of Top twelve best-selling table fans on Amazon and Flipkart, that you can go through and understand their features, advantages, and disadvantages.
Top 12 Best Selling Table Fans in June 2022
With the help of our table fan buying guide, you can make your decision real quick. Explore the list and do comment in case of any query or concern.
1. Usha Maxx Air Table Fan (Best Under 2000)
High output with amazing features is all about the Usha table fan.
It comes with a strong motor and clear blades that are aerodynamically engineered to provide the maximum airflow.
This table fan has a four-speed control mechanism, which can be used to adjust the speed of your preference accordingly.
Key Features of Usha Maxx Air
Semi-transparent blades engineered aerodynamically
Strong airflow
Robust motor
4 speed-check
Consistent oscillation
Incredible performance
The specific lubricating oil reservoir
Advantages and disadvantages of Usha table fan based on reviews
😊 Up-to-the-standard building quality
😊 Robust performance
😊 Operating smoothly
😊 Lightweight and Portable
😊 Ingenious and compelling design
😊 Strong airflow at low voltage
🙁 No disadvantages reported yet
Check best prices & Buy now from Amazon.in or Flipkart
---
2. V-Guard personal table fan
This table fan model from V-Guard is the smaller ones, but as far as its' performance is concerned, it comes on second in our list.
All that small table fan displays- great features with great utilities.
This fan has three adjustable speed modes allowing you to adjust the speed to suit your comfort.
This also has an oscillating feature and a revolving grill for uniform distribution of air.
Key features of V-Guard Table Fan:
Lightweight, powerful, and compact
Grill is rotatable
Adjustable angles
Three-speed modes
Advantages and disadvantages based on reviews
😊 Amazing quality
😊 Work noiselessly
😊 The oscillating feature is awesome
😊 Well structured
😊 Highest quality performance
🙁 No automatic sweep
🙁 A bit heavier
Check Best Offers on Flipkart & Amazon India on a click!
---
3. Usha Duos Mist Air
This Usha table fan is a perfect blend of productivity with style. Having cool air anywhere within the house with this table fan is now simple and affordable.
It offers effective air distribution for the improved experience of cooling. The 3 leaf PP blades are designed aerodynamically and provide effective cooling.
The best is its lightweight nature and portability which makes it simple to take anywhere you like.
Key features of Usha Duos Fan:
3-speed setting
Robust motor
Uniform oscillation and jerk-free
Adjustable angles
Aerodynamic PP blades to allow movement of air
Advantages and disadvantages based on reviews
😊 Well structured
😊 Easy to use
😊 Works noiselessly and in a hassle-free manner
😊 Great performance
😊 Better air distribution
🙁 A bit more expensive than others
🙁 Can cause heating problems after years
Best offers Buy now on Flipkart & Amazon.in.
---
4. Wall fan of Orient Electric (with Remote)
This fan is wall mountable and is good enough to provide air delivery at best.
The function of the remote control allows the usage of this fan much more comfortable and smarter.
You may also manually monitor it by clicking the high-tech contact screen.
This wall fan is equipped with a powerful motor that guarantees high air supply. The aerodynamic blades are designed to increase air propulsion.
Key Features:
Robust motor
Remote for better control
Downward and upward adjustable tilt mechanism
Indicator available for ON/OFF, air function, speed, etc.
Advantages and disadvantages based on reviews
😊 Well designed
😊 Noise-free operations
😊 Remote control system
😊 Best cooling
😊 Highest quality
🙁 Takes high voltage to run
🙁 A bit heavy
Buy now on Amazon India & get the best offers.
---
5. Cinni 300 mm
In terms of weight and output, the Cinni 300 mm table fan is more powerful than the other fans.
This table fan's frame is constructed exclusively of metal rather than the synthetic material, which is typically the commodity used to create table fans.
That's why the energy the fan brings on to achieve higher air production is increasing.
Key features:
Durable metal body
Powerful motor
High-speed airflow
90-degree swing
High air distribution
Advantages and disadvantages based on reviews
😊 Strong metal body
😊 Specialized cut for better air quality
😊 High oscillating speed due to 90-degree swing
😊 Easy to handle
😊 Powerful motor
🙁 Issue of corrosion if not properly managed
🙁 A bit expensive
Click to explore Cinni Table Fans on Amazon India.
---
6. Havells Birdie
This table fan is a great option for having an outstanding cooling experience with a sleek style and a trendy feel.
This table fan comes with a solid, usable support system. It has three blades for the better cooling experience.
Also Check Bestselling Table Fans on Amazon India on a click.
It also comes with 2 pole capacitor type motor which is very powerful and provides fast air distribution. The best thing about it is that it absorbs very less electricity.
Key features:
Exclusive rocker design
ABS blades- 3 leaf
2 pole capacitor type motor for energy efficiency
Amazing spiral mesh guard with mesh ring
Advantages and disadvantages based on reviews
😊 Powerful motor
😊 Better airflow
😊 Portable and compact
😊 Every angle coverage
🙁 No speed controller
🙁 Noisy
Check offers on Flipkart & Buy now!
---
7. Havells swing ZX
This Havells brand is trendy, stylish, fashionable, and portable and a great buy for your home.
The Havells Swing ZX arrives with a 400 mm sweep giving you efficient airflow and high-performance lateral blowing.
Also, the rush of air hits every tiny corner rendering the whole space packed with the cool breeze.
The best part of this is that it has a taller base stand that enables the improved airflow to penetrate every corner.
Also Check Bestselling Table Fans on Amazon India on a click.
This table fan is fitted with three aerodynamically built blades for greater airspeed and improved distance.
Additionally, it also comes with Thermal Overload Protection to secure the motor in the event of spikes of high voltage.
Key features:
Safety guard with 120 ribs
The taller base for better air quality
Robust airflow due to 400 mm sweep
Thermal overload protection
Powerful and high-performance motor
Oscillation is jerk-free
All blades are aerodynamically designed
Advantages and disadvantages based on reviews
😊 Well made body
😊 Simple and trendy design
😊 Robust air dispenser
😊 Portable
😊 Lightweight
😊 Rotations are of the high number
🙁 Gradual heating issues
🙁 Comparatively less air delivery
Compare prices on Amazon India & Flipkart for best offers.
---
8. iBELL- 55 watt table fan
As a name, iBell got such notoriety late. Probably owing to the large assortment of innovative items it sells.
Take the iBell CADIET2 Premium fan for example that comes with a self-lubricating motor.
The engine takes control of its own fiction, without you bothering to think about constantly oiling it.
Key features:
Jerk-Free Broad Sweep Oscillation that allows the air to reach every corner of a room
3-speed control
2-hour timer
Helps in moderating temperature and consumes less electricity
Advantages and disadvantages based on reviews
😊 Well designed
😊 Affordable as its price is less than other brands counterparts
🙁 Doesn't tilt much
Check best offers on Amazon India & Flipkart and save money.
---
9. Crompton 50-Watt table fan
The company name Crompton Greaves has been existing since 1937. The business has maintained itself, as it so fully knows the interests of the consumer. That's the first reason we've placed Crompton in our top-12 list.
Key features:
3- blades
400mm sweep that covers a large area
Noiseless
Advantages and disadvantages based on reviews
😊 Lightweight
😊 Portable and compact
😊 Well modernistic design
🙁 You cannot recharge this
Get Special Offers with Cashbacks on Amazon.in, Buy now!
---
10. HY Tec 65 watt table fan
The first aspect we realized about the Hy-tec table fan was how elegant it looks, and then we ventured a little deeper and figured out that it is attributable to high-quality plastic content that is used to produce this fan.
The Hy-tec brand has been on the market for even more than a decade now, which means it knows the nerves of its consumers quite well and has been making goods as per needs.
Key features:
3- blades
Small-sized
Makes no noise
Suitable for libraries, schools, offices, and homes
90-degree oscillation for keeping it to your favourite place
Advantages and disadvantages based on reviews
😊 Well-designed
😊 Better cooling
😊 3- speed control
😊 No-jerk
🙁 You cannot recharge
Best offers on Amazon India, Click to Buy now!
---
11. Luminous 55 watt table fan
Luminous is an Indian company that has been acknowledged and approved by the Indian public as one of the most favourite table-fan brands.
Luminous buddy table fan is small-sized and comes with a grill that is conveniently removed. You do have a choice to install it on the wall that helps to save a lot of space.
Key features:
Wall-mounted
38 CMM air delivery
Compact and portable
The powerful motor of 2800 RPM
Made of top-quality aluminium
Corrosion-resistant
Advantages and disadvantages based on reviews
😊 Favourable for rough use
😊 Adjustable to any corner
🙁 No speed control available
Click & View Amazon India Luminous Fans Store Page.
---
12. Havells crescent 250 mm table fan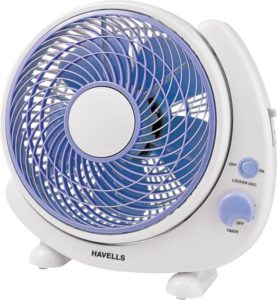 One of best-selling table fan, Havells Crescent 250 mm sweep fan is fitted with a powerful motor and a jerk-free rotating grill for broader air delivery.
It can be used as a table fan or, depending on the need or desire, can be placed on a wall.
The fan has five blades that have been aerodynamically engineered to ensure optimum airflow and performance.
Key features:
Aerodynamically designed blades
Wall-mounted
Higher efficiency
180-degree fan movement
3-speed control
Customization as per weather conditions
Advantages and disadvantages based on reviews
😊 Revolving grill is jerk-free
😊 The powerful motor of 38 watt
😊 1350 RPM speed
🙁 No oscillation stoppage for only one
🙁 Noisy on full speed
🙁 Unable to cover a larger area
Best offers on Amazon India & Flipkart, Click & Buy now!
---
Final Thoughts on Best Table Fan Brands In India
All the features, advantages, and disadvantages are identified after a close analysis of considerations and assessing the users' needs.
From the above top-list, our top-pick is Usha Maxx Air that strongly stand out. It is also noted down as India's strongest table fan of the year 2019.
Do let us know which table fan are you going to buy for your own house in the comment section below. See you there.